MARCUS MILLER: OLD STUFF AND NEW LADS.
Interview by ARTURO MORA
Marcus Miller has toured Europe with his Tutu Revisited project: the bassist plus four young musicians exploring the compositions he wrote in the mid-eighties for Miles Davis' jazz fusion landmark record Tutu. Tomajazz's Arturo Mora interviewed Mr. Miller right after the sound check for his concert in sunny Peñíscola (East coast of Spain). Kind and focused, he answered every question straight-forwardly and without hesitation. Like his music.
---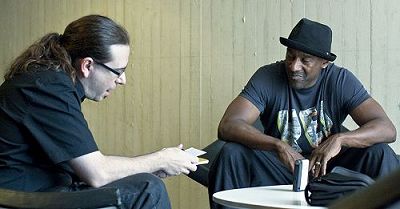 Arturo Mora interviewing Marcus Miller
ARTURO MORA: How's the current tour going?
MARCUS MILLER: Very nice. We played a few towns in France (Lyon and Paris), and a couple of other places here in Spain. The music is very nice, people are enjoying... No complains.
ARTURO MORA: Why are you revisiting Tutu now in 2010?

MARCUS MILLER: They did a Miles Davis exhibit in Paris last year, and the people from the exhibition asked me if I would do Tutu as part of the exhibition. At first I wasn't sure if it was a good idea, because I knew that Miles doesn't like to go back in the past so much, you know? Then I thought: maybe if I found some great young musicians who were just babies when we did Tutu, maybe they'd bring something new and create something new from this music from Tutu, then I thought that that would be a good idea. It was supposed to be one show, people really enjoyed what we were doing and next thing I know we were doing three months, four months, so it's been very popular.
ARTURO MORA: What can you tell us about the guys in your band?
MARCUS MILLER: Let's see... Saxophonist is Alex Han, who I discovered a couple of years ago at Berklee College Of Music, Boston. He's a great player. He's 22 years old now, but he's very much older inside, you know? And he found me a drummer, Louis Cato, who's a friend of his, who lives in New York also now. They both live in New York now. He's a great, sensitive, powerful drummer, who also plays bass and trombone and tuba too, he's very talented. On trumpet Sean Jones. Sean used to play in the Lincoln Center Orchestra, for maybe four or five years, and now he started to do other things, and he's a great trumpet player, and it's a difficult job to play trumpet in this situation. I told him: "I don't want you to play like Miles, just play like you". He's doing a great job. And then Federico González Peña who's on keyboards, he's been doing it for a couple of years now. He's just really great, beautiful harmonic sense, he holds the band together, he's a very very great musician.
ARTURO MORA: Getting deeper into the interview: what can I ask you that you haven't already replied in your website, www.marcusmiller.com?
MARCUS MILLER: [laughs] I know nowadays it's difficult, but it's just... People ask you about music...
For me it's very nice to revisit this music. I wasn't in Miles' band when I wrote this music for Miles. I was in his band earlier, but when I came back as a composer I wasn't in the band, so I never got to play a lot of these songs live. I played it in studio one time and that was it, so it's very nice to play this music now and see what it feels like to it, I mean, in front of the people.
ARTURO MORA: Do you write specifically for each one of your projects (soundtracks, collaborations, solo stuff...) or do you just write the piece and decide what to do with it later?
MARCUS MILLER: I have some pieces that are just in the closet, d'you know what I mean? But most of the pieces I write specifically for the projects. It is nice to have a couple of extra songs laying around just in case you're in a situation like: "oh, this would fit perfect", so you don't have to kill yourself to write something for a deadline. When I have free time I like to try to write free, but I don't have a lot of free time [laughs].
ARTURO MORA: Do you have the bass in mind when you write for your solo projects?
MARCUS MILLER: Yeah, absolutely I have the bass in mind. Sometimes it's the first thing I write, sometimes it's not, but I always know that I have to leave room for the bass in my projects.
ARTURO MORA: You're a remarkable musician both live and in studio situations. Which one of these settings do you enjoy the most?
MARCUS MILLER: If you play in the studio too long you lose your fire, you don't know how to play in front of people, you don't know how to get people inside it. And if you play live too long you lose your position. Everything's energy, energy, you know, and you don't hear all the details of what you're playing. So for me it's the same thing, that's what makes you a complete musician, being able to record your music and hear exactly what it is you're doing, exactly where your bass is falling in relation to the drums; exactly, you know what I mean? And then play live and figure out exactly how to get people emotionally involved in your music. A lot of studio musicians can't do it.
ARTURO MORA: There's this story about the two Fender Jazz basses that were stolen from you back in 1977 and the third one you got that you've been using for decades now. Are you still playing that bass?

MARCUS MILLER: Yeah, it's a Fender Jazz bass from 1977. I think the first bass was not '77, it might have been '75. The second one was '77 and the third one was '77. But now I have a couple of '77's that I found, from guys who were guitarists who in 1977 decided that they needed to own a bass as well, so they got a Fender Jazz bass and it's been sitting on the wall for 35 years, so I got a couple of those. Sometimes I bring those on the road with me, because it's so difficult to travel on the airplanes sometimes. They won't let you bring the instrument on the plane and I don't want to get in the situation where my main bass I have to put it under the plane or something like that. So when I travel I bring a different '77, but it's a '77, same year, same everything.

ARTURO MORA: Have you ever thought of switching to another model, another brand?
MARCUS MILLER: No. When I first started as a studio musician in New York I needed a bass that was very versatile. In New York everyday we'd be playing something new, we'd be playing funk music, we'd be playing latin, we'd be playing Caribbean music, we'd be playing country music, and so you needed one bass that could cover everything. And to me Fender is the only kind of bass with which you can play every kind of music, because that's how I got started, I had kind to get used to that Fender bass that became my sound, it's like my voice. So even if I find a bass that's nicer or higher or brighter or darker or warmer or whatever, it's not my voice, so...
ARTURO MORA: It's kind of your trademark sound.
MARCUS MILLER: Yeah, exactly. I can modify my trademark sound for different situations, but it still stays something like myself.
ARTURO MORA: How much daily practice do you dedicate to your other instruments (bass clarinet, soprano saxophone, keyboards...)?
MARCUS MILLER: I play the other instruments probably, in total, an hour a day. I play the clarinet for about twenty minutes or thirty minutes, particularly on tour, I play keyboards every chance I get, 30-40 minutes a day maybe. Then when I'm home sometimes I'll go to clarinet phase, just playing all day, or sometimes saxophone, or sometimes piano.
ARTURO MORA: I heard you were playing some acoustic bass.
MARCUS MILLER: Yeah, I play acoustic bass and I play it mostly at home. Sometimes when I'm doing a score for a movie I'll use the acoustic bass, 'cause it's such a beautiful sound, and you don't have to play a lot to get a good effect, one beautiful note that means a lot.
ARTURO MORA: When playing melodies on electric bass, what criteria do you use to decide whether to play it fingered or slapped?
MARCUS MILLER: I think it's how much do I want the note to project, like fingers is warm and soft, hard pluck is thin and sharp, and anything in between. So I basically use all those different sounds for the melody depending on how much I want the note to jump out. Sometimes you want it just to be beautiful, sometimes you just want it to bam! [he makes a percussive sound], so I use it all just based on emotion.
ARTURO MORA: What would you like to tell about your SMV [the tour he made a year ago with bass masters Stanley Clarke and Victor Wooten] experience?
MARCUS MILLER: It was beautiful, you know! It was really interesting to hear three different personalities on the same instrument, and it kind of sharpened my sense of who I am in that situation that's: OK, this is is what I do that's different from everybody else. And then I realized more of what's unique about me, and I think Victor and Stanley found out the same thing. So it was a very nice learning experience for everybody, plus we had a lot of fun.
ARTURO MORA: Did the three of you exchange any tips on bass playing?
MARCUS MILLER: Yeah, all the time: "How do you do that?", "What are you using there?"... Not a lot of talking, but watching. Sometimes it was: "Are you doing like this? I can't do like that, but I can do like this", so you found something new. Very nice.
ARTURO MORA: What music do you listen to from the current jazz scene?
MARCUS MILLER: I like Josh[ua] Redman very much, everything he does, I like Roy Hargrove, and Esperanza Spalding, who else? I like everything Herbie Hancock does.
ARTURO MORA: And finally: what next?
MARCUS MILLER: I have a new CD coming out called A Night In Montecarlo, which is a four-musician group, my group, with an orchestra from Monaco, in Southern France. I found different songs from my past that we arranged for the orchestra, and I have special guests Roy Hargrove and singer Raúl Midón. It's a very nice live CD.