BluesX5#192. Don Sugarcane Harris con John Mayall, Eric Clapton, Mick Taylor…: Accidental Suicide (Archives to the Eighties) [Minipodcast] #YoMeQuedoEnCasa / #IStayAtHome
Por Pachi Tapiz.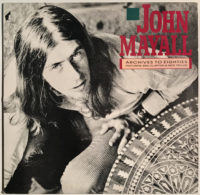 "Accidental Suicide"
John Mayall: Archives to Eighties (Polydor, 1988)
Don Sugarcane Harris, John Mayall, Eric Clapton, Harvey Mandel, Mick Taylor, Bobby Haynes, Joe Yuele…

© Pachi Tapiz, 2020

JazzX5 es un minipodcast de HDO de la Factoría Tomajazz presentado, editado y producido por Pachi Tapiz.
JazzX5 comenzó su andadura el 24 de junio de 2019.
Todas las entregas de JazzX5 están disponibles en https://www.tomajazz.com/web/?cat=23120 / https://www.ivoox.com/jazzx5_bk_list_642835_1.html.